How do you cut and carve metal and stone easily and without the handpiece chattering? Easy: use a flex shaft machine that runs at 350,000 rpm - The Shor Turbex does just that.
If you want to carve in metal, any metal (even steel), the Turbex is perfect. If you want to carve stone, any stone except diamond, the Turbex is ideal. Engraves metal and glass, wood and stone, almost anything. This machine is often used to engrave the windows of cars- for decorative purposes and also to engrave serial numbers on both the glass and metal parts of cars for security and insurance purposes.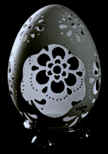 As small as a large pen, the Turbex has such incredible control that it can be held like a pen- it has no chatter! Cuts drills and shapes platinum and gold as easy very little resistance, no heat build up and no chatter. Like cutting butter. This delicate, beautiful egg was carved with the Turbex Drill. Just about anything, even stone, can be carved with the Turbex.
For carving wood, the Turbex is simply amazing. But you have to be careful not to cut too much- There is absolutely no resistance when carving wood. It's like moving through air.
Requires compressed air. The Turbex requires the use of 1/16" burs, and will not accept standard burs (standard burs shafts are larger in diameter). For a similar 400,000 rpm rotary power handpieces, see GraverMax