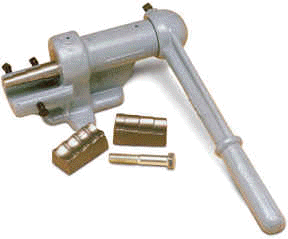 The ring bender is used for bending half round, flat, and engraved blanks into circular ring shapes. It may be used in special industrial forming applications. The mandrel is stepped to accommodate various rings sizes and two matching dies are provided.
Mount the tool to the bench with the single large bolt, which threads into the housing from below. Attach the handle to the mandrel with the sets crew tight on the flat.
Mount the die for the shape of metal to be used in the base. To do this, rotate the mandrel out of the way and position the die so that the steps match. Lower the mandrel on the die, thus aligning it with the groves. After the die is aligned, tighten the setscrews to hold it in place.
To round the ring blank, rotate the handle enough so that the blank can be started into the space between the lower die whose radius most closely matches the final ring size, and the mandrel.
Watch the results, advance the blank in small increments, bending and bottoming, until it becomes a circle and ends butt.